Kawasaki Industrial Robot Partner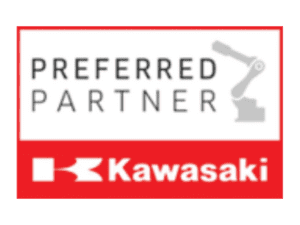 With more than 210,000 robots shipped worldwide, Kawasaki is a leading supplier of industrial robots and robotic automation systems with a broad product portfolio, able to service a wide range of applications across diverse industries.
Kawasaki's origins go back to 1878 when Shozo Kawasaki established Kawasaki Tsukiji Shipyard in Tokyo. Born in Kagoshima to a kimono merchant, Shozo Kawasaki became a tradesman at the age of 17 in Nagasaki, the only place in Japan then open to the West. He grew the business with inventive thinking, determination, and an unparalleled sense of business. Today Kawasaki is the global leader in the development of the most technically advanced controllers and the highest quality robots.
Kawasaki Produces the First Industrial Robot in Japan in 1969
Kawasaki regarded the development and production of labor-saving machines and systems as an important mission and became Japan's pioneer in the industrial robot field. In 1968, the Company (Kawasaki Aircraft) entered into a technical agreement with Unimation Inc., a U.S. company specializing in industrial robots, and began development work. This history, reaching its 50th year in 2018, is indeed the history of how the world has utilized robots for manufacturing. In 1969, the Company succeeded in developing the Kawasaki-Unimate 2000, the first industrial robot ever produced in Japan.
The Automotive Industry Begins Using Spot Welding Robots
However, it was in 1973 that the robot business took a significant leap forward: Toyota Motor Corporation and Nissan Motor Corporation decided to use Kawasaki-Unimate for auto body spot welding. This decision by two prominent automakers opened the floodgates for robotics applications in the Japanese auto industry.
Robotics = Technology Fusion
Today, Kawasaki Robotics (USA), Inc. is a subsidiary company of Kawasaki Heavy Industries, Ltd., Robot Division of Japan, and is headquartered in Wixom, Michigan, with sales and service offices in North and South America.
Five decades' worth of industrial robot business has been a journey of continually pushing forward technological advancement. These innovations include:
The introduction of a servomotor (replacing the hydraulic or pneumatic motor) which achieves highly accurate control of the motor's rotation angle and speed, based on positional reference input; a function that widens the robots' working range and makes trajectory control more precise.

A mechanism that achieves movement that is closer to the flexibility of humans.

A more sophisticated microprocessor increases computation speed, thereby improving the movement of other mechanisms.
Robotics is indeed a synonym for "technology fusion". What significantly helped the flourishing of robotics innovation in Japan was an industrial base where the needed mechanical, electronic, and sensor technologies were readily available for this fusion.
Customers feel safe purchasing a Kawasaki Industrial Robot from AOP Technologies when introducing robotic applications. Kawasaki has the experience in developing prototypes for internal use, as well as being a repository of verification data to substantiate their effectiveness, and AOP has over 50 years of experience in manufacturing, engineering, distribution, and exceptional customer service.