Metal Work Pneumatic Distributors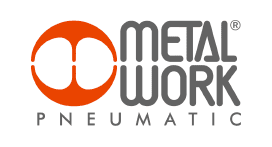 Metal Work is an Italian company specializing in the production of pneumatic components for automation systems. Set up in 1967, Metal Work started out as small workshop manufacturing push-in fittings for compressed air systems. Since then, the company has gradually expanded its structure and production range to become a market leader in pneumatic components for automation systems. They currently market five different product ranges: actuators, valves, FRL units, fittings and handling components, all of which appear in their 1700 pages catalogue.
Leaders in the Automatic Air System Sector
With more than 500 workers in their Concesio (BS) factory and more than 800 people making up the Italian and overseas sales organization, today they are among world leaders in the automatic air system sector. Metal Work obtained ISO 9001 quality certification in 1992, which was followed by the environmental certification under ISO 14001 in 2000. In order to guarantee an occupational health and safety management system, in 2007 Metal Work applied to them the British standard OHSAS 18001, and then moved on to ISO 45001 in 2019. All these certifications have been issued by Dakks-accredited German certification body DEKRA. Since 2016 Metal Work has been certified Elite, the Borsa Italiana project carried out in collaboration with the Ministry of Economy and Finance, Confindustria and ABI, designed to accompany and support the growth of SMEs.
Product distribution and technical assistance are handled by 46 branches in Italy and abroad that are in direct daily contact with the market and offer a comprehensive before/after-sales service. With US stocking and assembly operations in Arlington, TX, they can ship from that stock very quickly. Product quality and an efficient sales organization are the cornerstones on which Metal Work has based its reputation. These qualities enable the company to meet all possible requirements in terms of pneumatic automation.
What Products Does Metal Work Pneumatic Offer
Metal Work Pneumatic offers a full line of inch and metric pneumatic components, valves, cylinders, fittings, and Filter-Regulator-Lubricators.
Linear & Rotary Actuators
Extruded Body
Round Body
Short Stroke
Guided
Cartridge
ISO
Swing Clamp
Stopper
Stainless Steel
Rotary Rack & Pinion and Vane
Grippers
Two and Three Jaw
Parallel and Angular
Pneumatic Valves
Solenoid Operated
Air Pilot Operated
Manual
Mechanical
Flow Controls
Quick Exhaust
Stop Valves
Check Valves
Shuttle Valves
Slide Valves
Slow Start Valves
Pressure Control Valves
P/E Converter
Pressure Boosters
Logic Valves
Two-Hand-No-Tie-Down
Stand Alone Valves
Valve Islands with and without BUS nodes
Pneumatically Actuated Ball and Butterfly Valves
Grippers
Two and Three Jaw
Parallel and Angular
Filters, Regulators and Lubricators
Inch and Metric
Modular, Standalone and All-in-One
Pressure Gauges
Fittings
Nickel Plated Brass, Stainless Steel & Composite Push-In Fittings
Inch & Metric
Adapters
Accessories
Digital Pressure Switches
Electronic Flow Meters
Rotary Joints
Silencers
Electric
Linear Actuators & Gantry Systems
Servo & Stepper Motors & Drives
Digital I/O Modules
Electronic Communication Cables & Connectors
24 VDC Power Supply with Pneumatic Input
AOP Technologies is proud to carry the complete line of Metal Work Pneumatic products.