After acquiring Western Industrial Products, AOP now manufactures affordable, reliable and maintenance-free cable and wire strippers for the aerospace, commercial, and industrial markets. Our wire-stripping devices are ergonomically designed to minimize repetitive motion, increase productivity and deliver a precision strip every time.
Specifically designed for Mil Spec and SAE AS series cable formats, our strippers offer die-type blades for Kapton®, Kynar®, Teflon® and Tefzel® in extruded and tape-wrapped constructions. We also manufacture dies for commercial requirements including fiber optic, multi-conductor, flat, shielded, and fiberglass insulated cables.
Our precision self-aligning blades deliver perfect, consistent and reliable strips – this means no nicks or scrapes to the conductor and a clean insulation cut. Our tools require minimal wire breakout on multi-conductor and jacket shielded cables. Special circumferential guides locate and grip the wire without deforming, damaging, or flattening the insulation as parallel grippers do. We offer both handheld and bench-mounted solutions to best suit your wire stripping needs. The strippers are designed to run on standard shop air.
One year limited warranty.
STRIP-PRO

W200 SERIES
Strip–Pro Precision Pneumatic Wire Strippers
A precision, air-powered, high-volume production tool, STRIP-PRO has the portability of a hand tool. This unique stripper offers exceptional accuracy and dependability for wire harness, bench top and other mil spec or commercial applications. STRIP-PRO is extremely versatile and can be suspended above the work area with a tool counterbalance or bench mounted for hands-free stripping. For coaxial or multi-layered cables, tools can be configured for removing outer insulation, shield, and primary insulation in one sequence.
FEATURES & BENEFITS
10 – 30 AWG up to 7/8″ strip
Up to 3 different wire sizes per tool (custom
dies available for up to 6 sizes)
Fast cycle time and mechanical slug ejection
Adjustable strip lengths .100" – .875" (custom lengths available)
Individually adjustable strip length ports (quick change & custom stops available)
Size: 1-1/2" x 1-1/2" x 11″
Weight: 1.8 lbs
STRIP–PRO W202 & 203 SERIES
FEATURES & BENEFITS
10 – 30 AWG
Designed for longer strip lengths

W202: 7/8″ to 1-7/8″
W203: 7/8″ to 2-7/8″
STRIP–PRO W220 SERIES
FEATURES & BENEFITS
110 – 6 AWG up to 7/8" strip
Heavy duty version of model W200
Bench mount or handheld
STRIP–PRO W250 SERIES
Strip–Pro Heavy Duty Bench Top Stripper
FEATURES & BENEFITS
Fast cycling, powerful bench mounted pneumatic tool re moves the toughest Mil Spec and commercial insulations
4 AWG to 4/0 standard
Individual dies for each wire
3/8″ to 1-1/2" adjustable strip length
Portable bench mounted tool with foot pedal activator
Easy die changeover
Size: 2 -1/2" x 5″ x 24″
WIRE

CRIMPERS
We offer portable tools for crimping aerospace and commercial wire connectors.
CRIMP-PRO
Precision Pneumatic Wire Crimper
The Crimp–Pro W400 series of Precision Pneumatic Wire Crimpers are portable tools designed for crimping a wide variety of closed barrel connectors. Our crimpers have a hard anodized aluminum alloy housing, for a lightweight tool with extraordinary durability.
Precision, long lasting, hardened tool steel crimping dies; adjustable insulation support crimp; internal ratchet that holds connectors in place for easy wire insertion.Our proprietary ratchet design ensures a complete crimp cycle every time and prevents accidental cycling. Each crimper is tested per Mil-T-7928 for minimum required tensile and results kept on file. Dies are available in standard and custom sizes.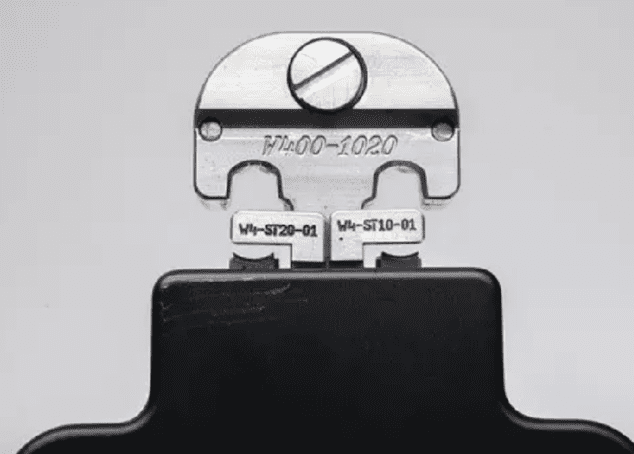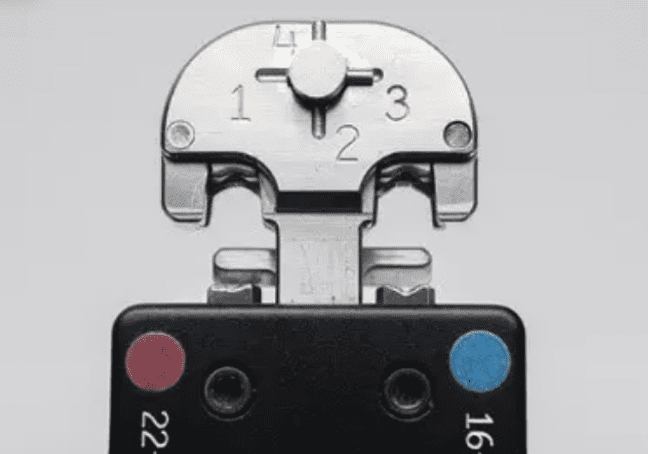 BLADES
We manufacture Precision Die-Type Replacement Stripping Blades for common hand tools.
STRIP–PRO W300 SERIES
Strip–Pro Precision Die-Type Replacement Stripping Blades.
Our precision die-type replacement blades for common hand tools allow for extraordinary precision and blade life.
 FEATURES & BENEFITS
Standard or custom designed blades for all Mil Spec, SAE AS series, fiberglass and most commercial wire insulations
Proprietary blade design delivers a sharper, more precise strip than standard blades
Custom circumferential grippers and wire guide plates available