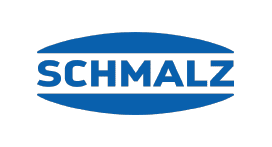 Schmalz was founded by Johannes Schmalz in 1910 after designing a machine for creating high-quality razor blades. He set up the company's first headquarters in Glatten, Germany and named is Schmalz Rasierklingenfabrik (Razor Blade Factory).
Although the company flourished with their razor blade products for almost 80 years, the company decided to revamp their primary product line in the early 1980's. Dr. Kurt Schmalz, Johannes Schmalz's grandson, thought of the idea of shifting the company's focus on vacuum technology.
Kurt's idea was a success. In just a few decades, the company grew faster than it ever did. In 1998, the company opened their first foreign subsidiary in Switzerland. More than a dozen more locations were acquired in the following years. Schmalz eventually made its mark in the worldwide vacuum industry due to their reliable products.
Why Choose Schmalz Products?
With their products trusted all over the world, Schmalz has become one of the market leaders in the vacuum automation and handling systems industry. They cater to dozens of industries, including, but not limited to logistics, electronics, furniture, and automotive industry.
Schmalz has partnered with distributors and sellers to provide more than 80 countries with their efficient and reliable products. They employ over a thousand employees dedicated to satisfying the growing need for vacuum products worldwide.
Schmalz is an award-winning company in various areas such as environmental preservation, innovation, and employment. Some of the awards they have won include:
Top Innovator of the Volkswagen Logistics Day (2016)
German CSR Prize (2016)
German Industry Innovation Award (2015)
Best Assembly Idea (2011)
Besides their many awards, Schmalz is managed by people who have a long-term vision. This thinking is what makes them always a step ahead of their competitors in creating solutions that new to the market. The company's philosophy is based on the principle of economic success combined with environmental and social engagement; thus, ensuring self-sufficiency and creative freedom.
What Products Does Schmalz Offer?
Schmalz offers three main products lines; Vacuum Technology for Automation, Vacuum Lifters and Crane Systems, and Vacuum Clamping Technology.
Their Vacuum Automation unit includes individual components such as suction cups and vacuum generators, as well as complete gripping systems and clamping solutions for holding workpieces, for example in CNC machining centers.
The Vacuum Lifters and Crane Systems is composed of equipment for industrial and handicraft applications. This products line consists of their Tube Lifter Jumbo, Lifting Device VacuMaster, crane systems and jib cranes, and other workshop equipment needed to lift heavy objects.
Lastly, their Vacuum Clamping Technology offers clamping solutions for woodworking, metal and plastic processing, glass processing, 3D clamping solutions, and vacuum generators for CNC machining centers.
Schmalz offers its customers long-lasting benefits with their comprehensive consulting, and focus on innovation and top-notch quality. Schmalz's advanced solutions make manufacturing processes more flexible and convenient, at the same time helping clients adapt to changes in the business environment.
AOP Technologies offers vacuum solutions provided by J. Schmalz GmbH. Our firsthand experience in using their products has convinced us of the reliability and durability of their products. Contact us to know which of their great products are in our stocks today!